Sport Import announces a new sales force for Denmark. As of now, Jacob Bech from the agency J&P Sports is on the road for the Germany-based distributor. For Denmark, Sport Import has distribution contracts for a total of 20 brands.
The important Danish market is newly staffed by Sport Import. Jacob Bech and Peter Hansen are now taking care of the Danish customers of the European-oriented distributor. As a result, retailers will have a powerful duo to advise them, and will benefit alongside the broad brand portfolio and personal support of Sport Import's reliable structure.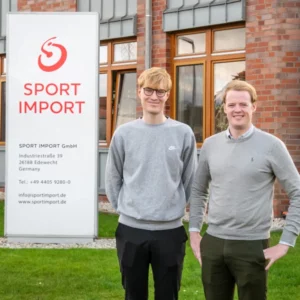 Jacob Bech brings with him extensive market knowledge gained in 14 years in the industry. He has worked in many different positions, such as bicycle mechanic, salesman, store manager, which guarantees him a comprehensive view of the customers' needs. Jacob, who is part of the agency J&P Sports ApS, can also be found riding his bike away from the job.
The same goes for Peter Hansen, who is the back-office contact for Danish customers. Marc Schmiedtke, Chief Sales Officer at Sport Import, is delighted with the new addition: "Jacob and Peter are an absolute asset with their service-oriented manner. They are well-connected, know the market and brands, and can provide our customers with quick and competent advice and support."
Sport Import can already look back on a company history of over 40 years. For Denmark, the distributor has the distribution rights of Lezyne, WTB and CLIF Bar, among others. Sport Import is already present in eleven European countries with its own sales representatives.
Jacob Bech and Peter Hansen are available to dealers at jacob@sportimport.de and denmark@sportimport.de, respectively, and by phone at +45 30152303. Dealers can reach Sport Import's international office staff at sales@sportimport.de and by phone at +49 (0)4405 9280-60.