What is gravel anyway?
A category? A style? A way of life? 
The short answer is "yes"—gravel's whatever you want it to be. Go where you want and unlock unlimited adventure right from your front door. 
SRAM created the new XPLR collection to help you define your own ride style.
Three trusted brands. Three sets of products. Designed to give road riders, mountain bikers, and gravel grinders unlimited new ways to get after it.
SRAM – Drivetrain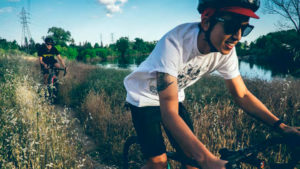 The XPLR collection is designed for tackling rugged and variable terrain on a drop bar bike.
Built for today's riders, XPLR components provide more comfort, control, and capability. Go ahead and take the long way home.
XPLR eTap AXS rear derailleurs
If your ride doesn't feel complete until you get a little dirt on your tires, you know the importance of capable components that can tackle anything. The SRAM XPLR eTap AXS rear derailleur is a dedicated 1x specific unit designed for use with XPLR 10-44T cassettes. It makes for an uncluttered drivetrain that takes on pavement and singletrack with equal aplomb. Wireless and proven eTap shift logic, AXS connectivity, and advanced chain management mean this derailleur does exactly what you want when you need it. 
XPLR 10-44 cassettes
Make that daily ride from your front door a little spicier with some dirt. The 440% range of the XPLR 10-44T cassette provides smooth gear progression when you're sweating up gravel climbs, and tight jumps on the high end for when it's time to drill it on asphalt. Shift features on each cog are optimized for electronic shifting, so you'll get fast, smooth, and precise shifts every time.
New direct mount 1x cranksets
We pioneered the 1x drivetrain, and the SRAM RED and Force 1 cranksets evolve the innovation. Lightweight and stiff direct mount 1x chainrings in sizes from 38-46T mate with durable carbon arms to place your bike's gear range in the sweet spot for your needs, with minimal complications. Our game-changing X-SYNC narrow-wide chainring technology keeps your chain where it needs to be, a new wide stance option provides maximum tire clearance, and our XPLR 10-44T cassettes take care of the range. So you can focus on the fun. 
Force 1 Wide crankset
We pioneered the 1x drivetrain, and the SRAM Force 1 crankset evolves the innovation. It's lighter, stronger, and simpler—non-aero chainrings can now be installed with a single tool. Wide variant cranks accommodate the largest of tires for your 1x gravel machine.
RockShox – Suspension
Give gravel some travel. RockShox brings the party to gravel. With a new fork and dropper post.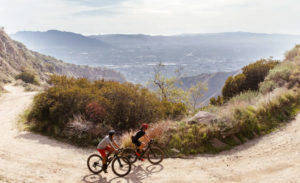 With so many riders getting off road, it was only a matter of time before RockShox found its own small rock rhythm. Built from the ground up to gravel, the new Rudy tackles rough roads with ease and features enough travel to keep your ride comfortably in control when curiosity takes you off the beaten path. Matched with the fresh Reverb AXS XPLR dropper post, we've created an all-new design complete with built in compliance to really open it up on new terrain. It's time to give gravel some travel (we've been waiting to say that). 
Rudy Ultimate XPLR
The new Rudy is a perfect match for your gravel bike. It's energy-efficient for straightaways and offers enough travel to keep you comfortably in control when things get rough. Built around the Charger Race Day damper (our lightest damper ever), everything is custom designed with gravel in mind. It's lightweight enough to make a road bike proud, and our new Solo Air spring is specifically tuned for this travel light option. Riding with Rudy is one fun way to gravel.
Reverb AXS XPLR
Why not craft a gravel-specific dropper post? The new Reverb AXS XPLR dropper post delivers more control, confidence, and fun to gravel riders everywhere. We created an all-new design complete with new air-only internals featuring built in compliance that we call ActiveRide. Enabled by SRAM AXS technology, create the ultimate personalized cockpit with next level interaction, personalization, and connectivity across all AXS enabled components.
Zipp – Wheelset, tire, handlebar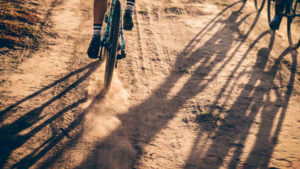 Roll with it. Zipp smoothes your ride with a purpose-built gravel wheelset.
101 XPLR wheelset
The 101 XPLR is our first purpose-built wheelset for gravel. Thanks to our MOTO Technology, this wheelset arms gravel cyclists with more control and durability over harsh terrain, providing a smooth ride quality that helps reduce rider fatigue. That means a more comfortable ride. Think of it as a magic carpet ride over primitive roads, especially with large tubeless tires at lower tire pressures. This wheelset is ideal for gravel racing, adventure or any long day in the saddle. 
G40 XPLR tire
The tire's casing and bead-to-bead puncture protection strip navigates the fi ne line between supple and stiff so that grip and performance do not suffer while making an incredibly durable gravel tire.  The G40 XPLR 40mm width was carefully selected to be most effective with its tread pattern while also fulfi lling riders' evolving preferences for wider tires for gravel events and off-pavement riding 
Service Course SL-70 XPLR handlebar
Updated distinctive Zipp cosmetics
70mm reach and 115mm drop allow a comfortable hoods position and a shallow drops position
5° drop flare and 11° drop outsweep creates a drops position 6cm wider than hoods
Ergonomic top with 3° backsweep
Matte Black nano blast aluminum 
Three brands. Infinite ways to gravel.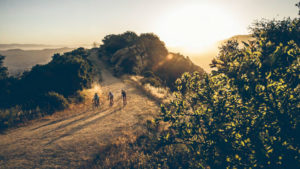 The XPLR collection from SRAM, RockShox, and Zipp celebrates a new era of drop bar riding with three product sets to make gravel yours. Every upgrade works great by itself or all together. So pick a path, or mix and match galore. After all, gravel is what you make it.
Discover the XPLR Collection in the Sport Import Webshop